TEAMNR: 868
START: 26-AUG-2007
FINISH: 19-SEP-2007
DISTANCE: 11000km
COUNTRIES:
NEDERLAND
DUITSLAND
POLEN
LITOUWEN
LETLAND
RUSLAND
MONGOLIË
CHINA
CLIMATE:
-27˚C TOT 31˚C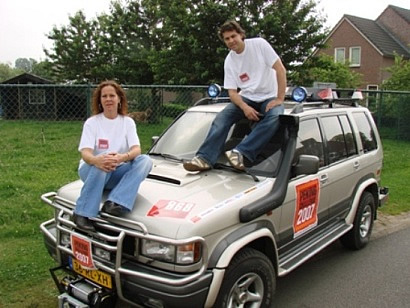 Watch our Youtube moviealbum below:
IN SEARCH FOR ADVENTURE........
We, Pieter and Gaby have taken the enormous step and will take part in the Peking Challenge. What does it involve? Firstly; you must have (as from hearsay) certain properties, such as: courage, adventurer's blood, perseverance and solidarity.
In the 25 days of the trip we will find out if we possess any or all of these qualities!! Read on....
11000 Kilometers for SOS-Children's Villages........
Each team drives for a charity organization. Team Freedom supports SOS-Children's Villages. This international organization gives orphans a safe home and a good education. They do this in their own unique way; by returning them back into a family situation with their own SOS-mother, in an SOS-Village Read on........
Sponsors needed.....
Team "FREEDOM" needs sponsors. There are two types of sponsor schemes. You sponsor Team Freedom for the costs of the trip and in return we will drive around with your company logo or name on our car. Also your logo and link will be published on this website. You can also sponsor our charity directly by donating a whole or half euro cent per kilometer.
For example: 1 ct per kilometer donation is 11000 km x 1 ct = Eur. 110,00 Read on.......