Hello,
We, Pieter and Gaby have taken the enormous step and will take part in the Peking Challenge.
What does it involve?
Firstly; you must have (as from hear say) certain properties, such as: courage, adventurer's blood, perseverance and solidarity.
In the 25 days of the trip we will find out if we posses any or all of these qualities!! I will surely keep you informed and up to date through this website.
But it certainly will be a magnificent challenge. How in the world did you get the idea to go on this trip? We often get asked.
Well, last year Pieter sat glued to the tube watching the Amsterdam-Beijng (peking) rally, a rally for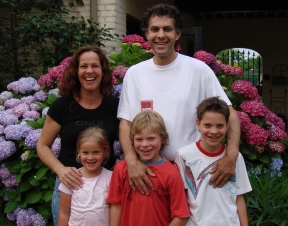 classic cars, in which they drive the Southern route to Beijng. He became very excited about it and surfed the Internet in search of the next rally and ended up at the Peking Challenge. He almost immediately registered us, but for me it was not such an easy decision because of our 3 children (Nick 12, Jesse 8, Ivy 6) who we will have to leave behind. We were fortunate to arrange very good and trusted care takers for the children, my sister, her husband and my parents will be staying in our house during the trip. With that taken care of, we could finally decide to go for it.
At first I thought that it would be a similar rally as the previous year but this is not the case. We are driving the extreme northern route. An 11,000 km drive in our 14 years old Opel Monterey 4wheel drive traveling through regions such as Russia, Siberia, the Ural Mountains, Mongolia, and the Gobi Desert, go to Route
Exactly a 100 years ago this same route was driven by 5 participants from Peking to Paris. The Italian prince Scipione arrived first in Paris. We are undergoing this exciting adventure for charity, we have chosen to support SOS-Children's Villages. This worldwide organization ensures loving relief, education among many other things for orphan children. go to Charity
We leave on Sunday the 26th of August from the Dam in Amsterdam. At noon the starting shot will sound. The same evening our first stop will be in Berlin. Along the trip we will also meet the press.
On June 3rd was the "Kick-Off Event", our first meeting with the other participants, a very extraordinary group of people, if I may say so. From 2 young students to a 74 year old man. We will be driving in a colonne of 14 cars, including a car service team and a doctor. Along the way a few places are arranged to spend the night, such as in the main cities, but actually we are meant to find sleeping places with the local people in their homes, in the car, in Ger Camps or just underneath the star sky, so everywhere without the benefit of luxury
This is for me an enormous challenge , back to basic.... I think that I will learn a lot about myself during such an extreme trip, or won't I have time to think about it too much because of the tight time schedule?? We will be driving 500 kilometers average a day, although there are days on which we will be driving up to 1000 kilometers. Every car will have a built-in GPS tracking system along with a "panic button" , just in case. Hopefully we won't need to use it. Finally we will arrive at the great Chinese Wall, it's not a place I will visit regularly so I think it will be a tremendous interesting experience. From Peking the car will be shipped and we will fly home where everybody will be eagerly awaiting our arrival (haha).
I will keep you informed.
Gaby